Chiropractic Care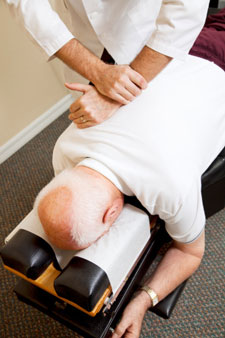 Chiropractic care entails adjusting the spine by moving individual vertebrae, releasing pressure off of nerves that go to muscles or organs of the body. Doing so also relieves pain in the process. At Maggiore Chiropractic, Dr. Maggiore provides both hands-on adjustments as well as instrument-assisted ones which use a lighter-force approach. He also offers state-of-the-art therapies and modalities, so patients have even more choices when it comes to their care.
Benefits of Chiropractic Care
One of the primary benefits of chiropractic care is pain relief, without drugs or surgery. If you've forgotten how healthy you can, how good you can feel and how strong you can be, chiropractic will help you remember! Chiropractic will help restore you to optimal health.
Conditions We See
In addition to helping back and neck pain, chiropractic can help with a multitude of issues, including the following:
Carpal tunnel syndrome
Disc herniation
Headaches
Spinal stenosis
Sports injuries
Our Techniques and Services
We pride ourselves on offering a diverse array of techniques and services to help patients with their various health concerns:
Activator Methods®
Class 4 Laser Therapy
Nutrition Supplements (Standard Process®, Metagenics® and Douglas Laboratories®)
Foot Levelers (custom orthotics)
Graston®
Spinal Decompression Therapy
Toggle Recoil
The New Patient Journey
Our goal for patients who come in experiencing pain is to provide relief as quickly as possible. This phase takes days to weeks to get through. The rehabilitation and strengthening phase, which comes next, focuses on trying to prevent the problem from recurring. This phase takes weeks to months. Then we transition patients to an ongoing maintenance phase where we're preventing their problems from returning.
Helping Patients Feel Comfortable
If you've never had chiropractic care before, we understand that you may not know what to expect. Dr. Maggiore will explain everything before he begins and always strives to make his adjustments as gentle as possible. You also may or may not hear a popping sound. If you do, it's simply the sound that's made when the bones are being moved around, and a vacuum is created where they were stuck together. It's like a pleasant release of endorphins, the body's natural painkillers.
Experience for yourself how fantastic you can feel with natural chiropractic care and our suite of other services. Contact us to book a same-day appointment today at our Stuart practice!
---
Chiropractic Care | Maggiore Chiropractic